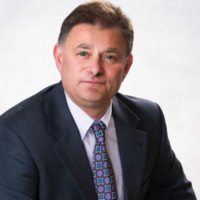 Tom Andrellos, Director of Growth and Innovation, MassMEP
Tom joined MassMEP October of 2014 after 32 years in senior level positions in the high tech manufacturing, global supply chain and business operations. Tom's work at MassMEP is focused on development of strategic industry initiatives, new product growth services, and building a sustainable supply chain eco-system that provides clients with a competitive edge.
Prior to joining MassMEP, Tom spent 14 years at EMC Corporation. At EMC, Tom held the position of Vice President of manufacturing leading the flagship storage solution product lines. In this leadership role Tom was accountable to deliver $2+ billion of annual revenue, direct a workforce of 550 employees, management of a 700,000 sq ft high-tech facility and control of a $95 million annual operating budget.
Tom received several recognition awards from State Representatives for his engagement and support of small manufacturers in Massachusetts. In addition Tom received awards from local community leaders for his dedication and commitment to fund raising activities for local charities and non-profit organizations.