On Friday, MassMEP graduated a new class in Advanced CNC Skills, part of the Applied Manufacturing Technology Pathway Certification. The graduation was the eighth area training funded by the Massachusetts More Skilled Workers Program. Eleven graduates spent eight weeks in an intensive curriculum of classroom and hands-on work to prepare for jobs as CNC (computer numerical control) operators. Representative John Fernandes presented each graduate with a citation from the Commonwealth recognizing the importance of the course and their dedication to improving their skills. Advanced CNC Skills training, designed by MassMEP to meet the demands of Massachusetts manufacturers, has graduated over 675 students since the program began. The total job placement rate is 90% with an average starting wage of $17.11 per hour.

Figure 1. Certificates handed out to Advanced CNC Skills graduates by Rep. John Fernandes; Torbjorn Bergstrom, Operations Manger, Haas Manufacturing Labs, WPI; and Matt Healy, MassMEP Instructor.
"MassMEP's training model combines classroom, simulation, and hands-on training to build job ready skills," said Ted Bauer, MassMEP's Workforce Strategies Director. "Additionally, students are provided work readiness skills that are critical to securing employment in today's manufacturing environment."
The Advanced CNC Skills course is a 280 hour program. That includes 80 hours of foundational manufacturing skills, 100 hours of advanced CNC skills training at WPI, 40 hours of MasterCAM, 10 hours of OSHA training, 30 hours of career readiness, and 20 hours of Math Bootcamp. Upon graduation, the students receive a 10-hour OSHA general industry card, Massachusetts Pre-Apprentice certificate, Florida Institute of Technology Lean certificate, and WPI CNC Certificate of Completion. This prepares them to sit for the MACWIC Level 3 Certificate test.
Figure 2. MACWIC Applied Manufacturing Technology Pathway Certification
Advanced CNC Skills course graduates travel over an hour to attend this comprehensive training that starts as early as 6am. In addition to the technical training, the students are evaluated on their work readiness; showing up for classes every day is a key component of the course work evaluation.
"We created this training based on the demand we heard from employers," stated Bauer. "The program is rigorous and expectations of the participants mirror those of an employer. This way MassMEP supplies manufacturing companies with work-ready employees."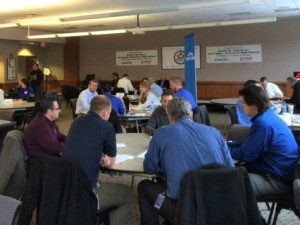 Job Fair
Part of the training program includes a job fair the week prior to graduation. Each employer meets with the job candidates for about 10 minutes, to determine if they would like to pursue a more in-depth interview. This month's job fair included 22 companies from across Massachusetts, including 9 that had participated in the past.
The Massachusetts More Skilled Workers Program is a training strategy to prepare and place individuals in a paid job and position them along a career pathway that can culminate in certificate/degrees as Technicians and/or Engineers. The program is funded by a grant awarded by the U.S. Department of Labor's Employment and Training Administration.
About Massachusetts Manufacturing Extension Partnership
Massachusetts Manufacturing Extension Partnership (MassMEP), part of the national NIST MEP system, is a leading resource for manufacturers. Committed to success in manufacturing, MassMEP transforms companies through solutions focused on innovative growth, operational excellence, and workforce development. The organization cultivates a sustainable community built on supportive relationships, idea sharing, achievement, and next generation manufacturing. For more information, visit www.massmep.org.