Forging Inclusive Futures: Expanding the Talent Pipeline to Fill Today's Critical Openings
October 19 @ 8:00 am

-

10:00 am

EDT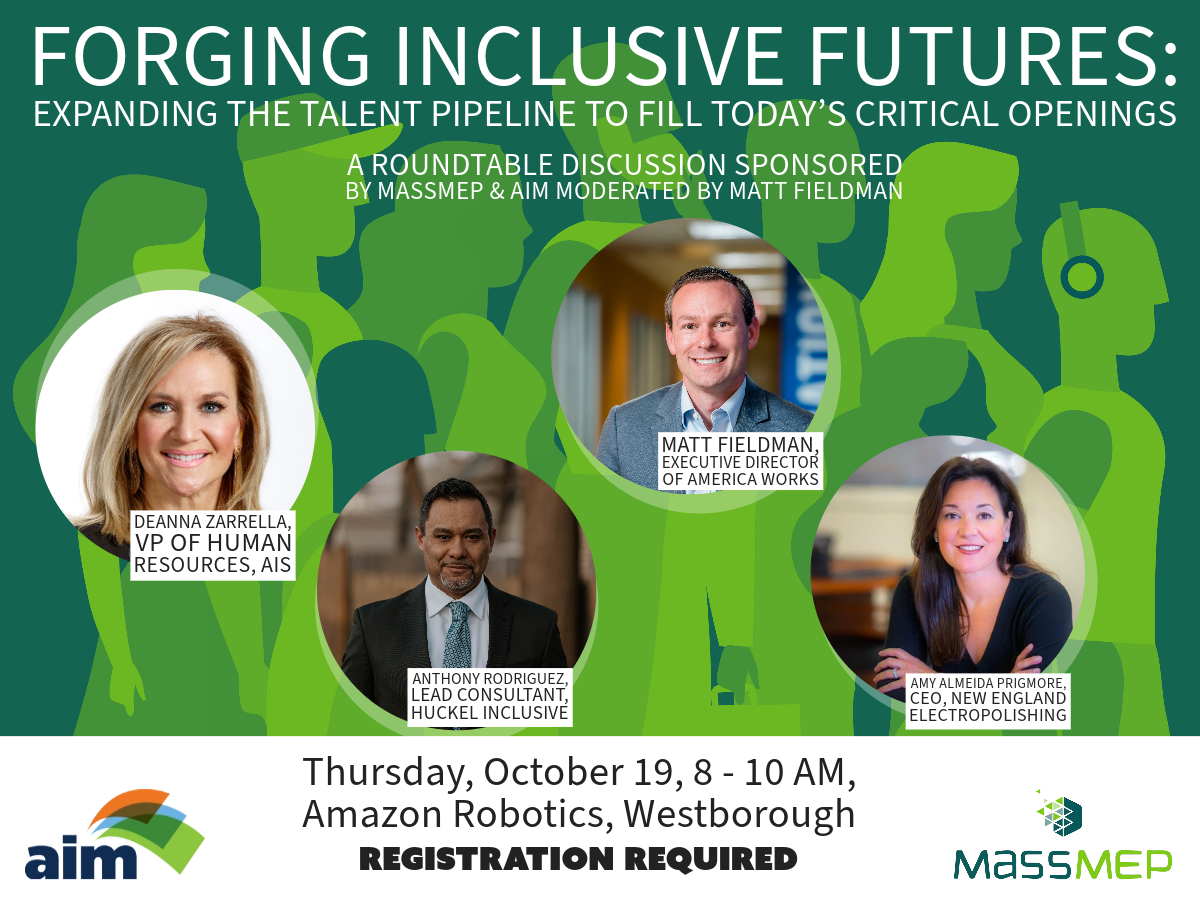 Join us for this Roundtable Event
A roundtable discussion sponsored by MassMEP & AIM on Thursday, October 19th from 8 – 10 AM. The event will be Moderated by Matt Fieldman with a group of guest panelists to discuss the transformative power of widening your talent pipeline to include non-traditional workers. The panel is a group of national experts, pioneering employers, and successful workers who have benefited from inclusive employment opportunities and equity-focused hiring practices. Gain insights from those who have championed inclusivity, learn from their experiences, and discover how integrating formerly incarcerated people, people with disabilities and others can drive innovation and success in your organization. Don't miss this chance to contribute to the future of work and create a more inclusive professional landscape.
REGISTER HERE
Get to know our Moderator and Panelists:
Matt is currently Executive Director of America Works, a nationwide initiative to coordinate the American manufacturing industry's training efforts, generating a more capable, skilled, and diverse workforce. Based at MAGNET: The Manufacturing Advocacy and Growth Network, headquartered in Cleveland, Ohio, Matt works across the nation's Manufacturing Extension Partnership (MEP) National Network to increase collaboration, efficiency, and impact of local and regional workforce development efforts.
Previously, he was Vice President of External Affairs for MAGNET, a nonprofit that helps Northeast Ohio's small- and medium-sized manufacturers grow locally while competing globally. In this role, he launched the annual Ohio Manufacturing Survey; MSPIRE, a regional startup pitch competition; manufacturing apprenticeships for inner-city youth; and oversaw the organization's fundraising, legislative relations, media relations, and more. In his volunteer work, Matt is the founding Board Chair of EDWINS Restaurant and Leadership Institute, Cleveland's first nonprofit restaurant and one of the first of its kind nationally to train formerly incarcerated individuals to work in fine dining. He raised over $600,000 to start EDWINS and was named "2014 Fundraiser of the Year" by Fundraising Success magazine for his efforts. He is also the founder of Cleveland Codes, one of the nation's first nonprofit software bootcamps devoted specifically to training low-income adults for careers in technology.
Joining New England Electropolishing in 2002, Amy oversaw the company's fiscal management, recruiting, and customer service functions prior to assuming the role of CEO in 2019. Amy has been instrumental in obtaining NEE's ISO 13485 Quality Assurance certification.
Her day-to-day duties as CEO include financial oversight and human resources administration, as well as development and implementation of strategic planning. Having worked her way through the organization from the bottom up, Amy's current position allows her to put her accumulated knowledge of the company's inner workings to excellent use.
NEE remains family-owned and operated. Amy and her brother Luke Almeida, COO, maintain the core values the founder instilled in the company: pride in delivering excellent customer service, and appreciation for the contributions of NEE's 35+ hardworking employees.
Joining Amy on the panel will be Matthew J., one of her valued team members at New England Electropolishing since 2020.
Anthony is a consummate creative who seeks truth and justice for those at risk for harm, those marginalized in the community, and who need advocacy. He has a gift for seeing people as they are and finding ways to optimize their talents and realize their potential. He analyzes systems and structures to find strength-based solutions to profound problems.
His work has centered primarily on creating diverse supports, policies, and practices to help people with Intellectual and Developmental Disabilities and those of color live the lives they have imagined. When he worked as an administrator on the Pueblo of Zia, he led structural change within the Bureau of Indian Affairs for funding to follow the child and increase inclusive practices at the schools. In the Albuquerque Public Schools, he created the first Pre-Calculus curriculum with dynamic access points for people with disabilities. A few years later, he did the same as a lead special education consultant for Illustrative Mathematics, now the #1 rated curriculum by EdReports. On the Providence Public School Design Team, he worked to increase inclusive practices and diversity in hiring and develop dynamic teacher development plans to increase access for those with IDD and English Language Learners (ELL). Drawing from these experiences brings these issues to the forefront with compassion and respect for all involved.
Deanna has worked for AIS since April 2018, originally joining as Sr Human Resources Director. Deanna was promoted to Vice President of Human Resources where she now leads a team of 5 HR Professionals. Deanna has over 30+ years of human resources experience with a specialization in talent management including workforce planning, recruiting, training, performance management, employee development and employee engagement. Deanna also has extensive experience managing employee relations, benefits, compensation, and compliance.