Virtual Product Launch: CONNEX™ Massachusetts
STRENGTHEN YOUR SUPPLY CHAIN & SOURCE LOCAL WITH CONNEX™ MASSACHUSETTS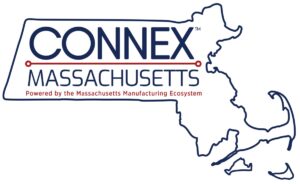 During this virtual product launch, MassMEP, WPI, UMass Lowell, MIT, FORGE, MassRobotics, MassTech Collaborative, AIM & the BIC, known as the Massachusetts Manufacturing Ecosystem, are coming together to celebrate the kickoff for CONNEX™ Massachusetts.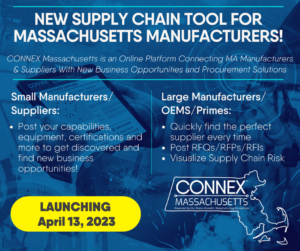 CONNEX™ Massachusetts is an online marketplace for manufacturers to connect with each other, find local suppliers, discover new business opportunities, and manage their supply chains. The goal of the platform is to increase manufacturing growth among Massachusetts manufacturers as well as help smaller Massachusetts suppliers more easily connect with larger U.S. manufacturers who need their services.
"The pandemic has delivered a stark lesson on the vulnerability of supply chains," said Kathie Mahoney, CEO/President of MassMEP. "Disruptions to existing supply chains resulted in shortages of materials and inputs to manufacturing processes, hampering the productivity and profitability of Massachusetts manufacturers and impacting the lives of countless employees and consumers. CONNEX™ Massachusetts provides us with a powerful platform to build a strong, Massachusetts-centric manufacturing network that will help local organizations easily identify alternate suppliers; improve supply chain diversity, resiliency, and risk, and expand new business opportunities."
CONNEX™ Massachusetts will allow manufacturers to identify potential suppliers within the state based on their capabilities, not just current production. Results can be filtered to meet a manufacturer's specific needs based on hundreds of unique criteria, such as equipment, processes, materials, and certifications. In the B2B Exchange Center, manufacturers will also be able to post RFIs and RFQs; qualified suppliers can then respond with their capabilities and availability.  These platform features will help Massachusetts manufacturers quickly find the materials and resources they need to meet productivity and profitability objectives, while improving supply chain robustness for downstream manufacturers as well.
Click CONNEX™ Massachusetts to join the database today! For more information contact CONNEX@massmep.org.