What is going on with OSHA and the world of Safety with a Special Guest from the DIA
09/20/2022 @ 11:00 am

-

12:00 pm

EDT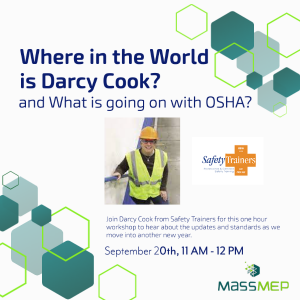 Where in the world is Darcy Cook and what is going on with OSHA? Join us for this one-hour webinar and Darcy will get everyone caught up on what's happening with Safety Trainers and updates across the board for OSHA and safety.
NEW!! Darcy will have a special guest with her for the one-hour webinar, Maryann Falvey. In June 2022 Maryann Falvey became the new Director at the Office of Safety for the Department of Industrial Accidents (DIA). She has enjoyed a long career managing health, workers compensation automobile related injuries and brings with her knowledge of claims and risk mitigation. Maryann dipped her toes into the world of casualty insurance first working as a multi line adjuster for Liberty Mutual, later as a manager for AON, where she and her team worked with cities and towns of Connecticut. More recently, Maryann brought the benefits of wearable technology, to employers in the USA, Europe and Asia as the Global Worker Safety Strategist for AIG Insurance.  In between, Maryann operated a very successful consulting firm providing risk prevention and workers compensation services to employers such as Whirlpool, and Veolia Transportation and claims mitigation services to automobile insurers such as Hertz, Safety, Amica, Arbella, OneBeacon, Electric and Travelers' Insurance companies. She has worked with several start-up corporations and is an expert and published author on the use of the Graston Technique a means to prevent and reverse musculoskeletal risk.
Join Darcy, Maryann and the MassMEP team as Darcy reviews the OSHA changes in the past two years, and we chat with Maryann about what's new at the DIA and some funding options that will be available to Massachusetts Manufacturers.
REGISTER HERE