Written by: Darcy Cook, Safety Trainers
Based on the Bureau of Labor Statistics report fatal work injuries involving violence and other injuries by persons or animals increased by 163 cases to 866 in 2016. Workplace homicides increased by 83 cases to 500 in 2016, and workplace suicides increased from 62 to 291. This is the highest homicide figure and the most suicides since 2010.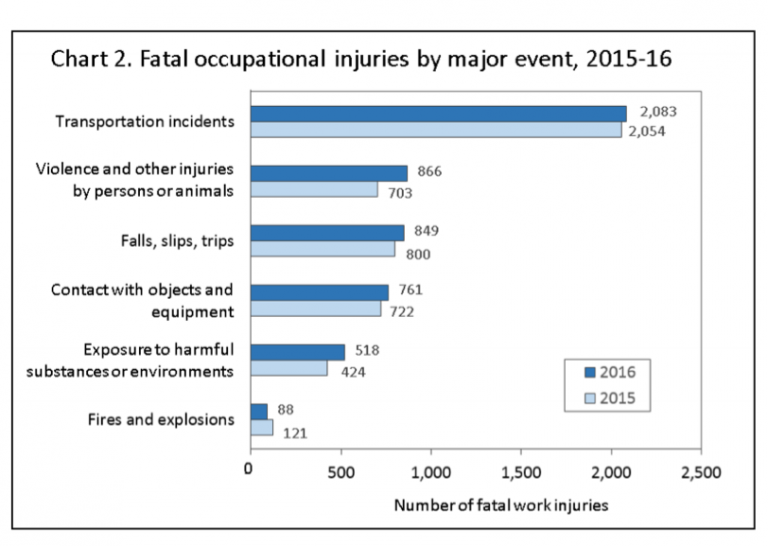 • The top three causes of fatalities in the workplace in order are car accidents, workplace violence and falls. To see the specific numbers for manufacturing visit the Bureau of Labor Statistics website.
With the rise of homicide in the workplace, employers need to start to address the risks associated with workplace violence. Workplace violence falls under the General Duty Clause of the Occupational Safety and Health Act, Section 5(a)(1).
Section 5(a)(1) of the Occupational Safety and Health Act, requires that each employer furnish to each of its employees a workplace that is free from recognized hazards that are causing or likely to cause death or serious physical harm.
What you need to know?
98% of all active shooter incidents are committed by a single person
78% of all active shooters know at least one of their targets
40% commit suicide and 48% are killed by police or others
88% of active shooters DO NOT expect to survive
Most active shooter events are less than 5-7 minutes (actual shooting)
Even with a response time of 2-3 minutes by police, most of the shooting is over by the time they arrive. We need to implement training that teaches our employees response options, find ways to secure and slow down shooters within our buildings and learn advanced first aid that includes tourniquet training.
When the police arrive on scene, they are not there to treat the wounded, they are there to neutralize the threat, learning lifesaving skills like "Stop the Bleed" which includes tourniquet training, will save lives.
If you are looking for guidelines to help you get started with a workplace violence plan, consider NFPA 3000. In response to the rise of active shooter incidents, the National Fire Protection Association (NFPA) has put a provisional standard in place, NFPA 3000. Shortly after the mass killings in the Pulse Nightclub incident, the NFPA 3000 began in October 2016 and was quickly formed with a technical committee that included Department of Homeland Security; Department of Justice; the FBI; NSA: national police, fire and EMS organizations; hospitals; private security; and universities.
We can no longer say "It won't happen here." We need to write a program and train our staff in ways to protect against workplace violence.