PRESS RELEASE
Contact:
Allan DeLisle
Technical Sales Coordinator
Phillips Precision, Inc.
Adelisle@phillips-precision.com
www.phillips-precision.com
1.508.869.0373
———————————————————————————————–
Deliver Perfect Parts Faster with Patented Modular Laser Marking Fixturing!
June 2020, Phillips Precision, Inc. of Boylston, MA produces the only modular, ready-made fixturing for laser processes.
Laser marking and welding technicians can now build palletized modular fixtures, that can be easily removed from the machine and then precisely reinstalled with the click of a magnet. Allowing for quick swaps between fixtures in one machine and easily move fixtures from one machine to the other with virtually no downtime! Readymade fixture plates and components save companies from the cost and time it takes to design and build their own fixtures in house. Whether a small job shop with a single piece of equipment or a large manufacturer, modular laser marking fixturing will dramatically accelerate your processes.
The new 52-piece Laser Arsenal® Bundles a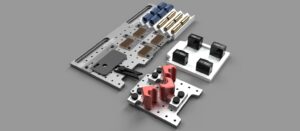 re available with your choice of 12", 18" or 30" docking rails to fit any size machine. Plus, multiple .5" thick aluminum fixture plates, an Adapter plate, plastic V-Trays, and a Pocketed Tray, Magnetic v-blocks, Simple-Stop™ rails, hole adjusters and other various standoff, clamps and hold downs are also included. Everything is designed with ¼-20 threads to accept any standard hardware and even existing fixturing, eliminating waste, and permitting the easiest adaption to leaner modular palletization. Add to your system from a variety of fixture plates and work-holding components, specialty clamps, and vises. All components are standard and in stock and ready to ship so an order placed today can be at your door tomorrow. Inquire about custom designs.
About Phillips Precision, Inc. Phillips Precision, Inc. of Boylston, MA is a full-service machine shop and work holding product innovator. Phillips designs develop and market work-holding products for manufacturers, in addition to providing custom fixture design services.