ISO Internal Auditor Training Session (1132361)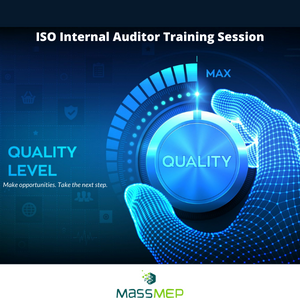 This is a 2-day hybrid training event totaling 8 hours each day*.
Who Should Attend: This course is recommended for anyone involved in designing, implementing, maintaining, and improving a quality management system and/or performing internal audits of a quality management system, such as quality officers, managers, and auditors. No prior knowledge of auditing, quality management systems, or ISO 9001:2008 is required prior to attending this course.
Course Highlights / Topics Covered:
ISO 9000 terms, definitions, overview
Seven Quality Management Principles
ISO 9001 Requirements and Interpretation
Define what an audit is and the types of audits
Define qualifications necessary for an internal auditor
Define the various roles and responsibilities of the internal audit team
Audit roadmap
What are internal audits
Why are internal audits conducted
What preparatory work should be carried out before an audit
What to pay attention to during the audit
What is a good audit report
What aspects are important in monitoring audit results, corrective and preventive actions
Students will benefit by:
Learning how to plan, conduct, and report quality audit results
Enhancing your understanding of the components of an internal quality audit program
Gaining an in-depth understanding of ISO 9001 requirements
Getting answers to your toughest audit questions
Capturing a working knowledge of the practices, roles and responsibilities of an auditor.
Costs:
The course is offered on a per seat bases through the Workforce Training Fund Express Grant Opportunity from the Commonwealth Corporation. The cost of the training is $1000/seat; however, through the Express Grant program, if approved, the WTFP will reimburse you for up to 50% of the actual cost of training (for companies 100 employees or more), OR, full reimbursement of the cost of training for companies with 100 employees or less.
REGISTER HERE