Tool Training: Laser Cutter
01/11/2022 @ 7:00 pm

-

10:00 pm

EST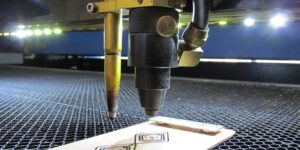 Laser cutters are used to produce precise cuts and engravings with several materials based on 2D vector and raster images. The machines are commonly used for anything from industrial manufacturing to small and intricate art projects. This class will teach how to operate Technocopia's Full Spectrum laser cutter safely and effectively. Students will learn the process of creating and preparing a simple design in Inkscape, opening it in Retina Engrave, and then operating the laser to produce the cut. We will also learn how to calibrate the auto focus sensor, and discuss what types of materials are appropriate to use with the machine.
The software used is Inkscape (https://inkscape.org) it's free to download and has many online references.
This tool is available for family use! Any youth between the ages of 12-17 may take this class with a participating adult. For our student registration form and for class policies, please visit: https://technocopia.org/tool-training
PLEASE NOTE: Registration via Eventbrite is preferred to ensure a seat in the class, however, if you wish to pay by cash or check, please notify us immediately at info@technocopia.org. Thank you!
About the Instructor
Breanna Niebel, is a graphic designer and animator with extensive background in creative software. She went to college in Vermont and attended grad school in Wales, United Kingdom. Her passions include animation, drawing, and learning new things. Breanna has used Inkscape to design and laser cut wooden earrings, which she now sells on her Etsy page.
REGISTER HERE