January 14, 2019 – Worcester, MA – MassMEP, the Massachusetts Manufacturing Extension Partnership, has entered into a partnership with Tooling U-SME — the learning and development division of SME and the leading provider of manufacturing training solutions — to offer MassMEP clients low cost, customizable workforce training solutions focused on performance outcome goals.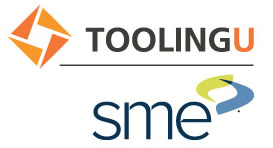 According to Deloitte and The Manufacturing Institute, nearly 3.5 million manufacturing jobs will be available in the U.S. by 2025. However, a shortage of skilled workers is expected to result in two million of these jobs going unfilled, according to the U.S. Bureau of Labor Statistics. Efforts to close this skills gap are increasing and partnerships like MassMEP and Tooling U-SME are designed to accelerate workforce preparedness for jobs that involve advanced technologies.
"Collaborating with Tooling U-SME will increase our ability to help more manufacturers reach their productivity and economic goals, while ensuring the growth of the industry," said John Killam, MassMEP President & CEO. "Being able to connect our clients with industry-driven workforce training from Tooling U-SME can help them close the skills gap and remain competitive in a challenging economic environment."
"We have a responsibility to empower the manufacturing industry with the tools they need to succeed, and by furthering our partnership with MassMEP, we're able to make great progress in staving off the shortage of workers with the right skills," said Jeannine Kunz, Vice President of Tooling U-SME.
Over 500 online classes in machining, additive manufacturing, fabricating, design and engineering, maintenance, welding, and leadership give companies the skills and competencies they are looking for, fully aligned with industry standards and industry-backed certifications. They're easy to use, interactive, and effective.
For more information about how Tooling U-SME and MassMEP can help solve workforce training issues, contact Leslie Parady at lesliep@massmep.org or 508-831-7020.
Tooling U-SME: www.toolingu.com/
MassMEP: www.massmep.org
About MassMEP
Massachusetts Manufacturing Extension Partnership (MassMEP), part of the NIST MEP National Network, is a leading resource for manufacturing companies that believes in cultivating a community built on support, idea sharing, and achievement. MassMEP creates economic impact by transforming manufacturing enterprises and the manufacturing ecosystem. This is achieved through the delivery of operational excellence programs, workforce development strategies, and innovative growth initiatives, and enhanced by strategic public/private relationships. For more information, visit www.massmep.org.
About Tooling U-SME
Tooling U-SME delivers versatile, competency-based learning and development solutions to the manufacturing community, working with more than half of all Fortune 500® manufacturing companies, as well as 600 educational institutions across the country. Tooling U-SME partners with customers to build high performers who help their companies drive quality, productivity, innovation, and employee satisfaction. Working directly with hundreds of high schools, community colleges, and universities, Tooling U-SME is also able to help prepare the next generation workforce by providing industry-driven curriculum.
For further information contact:
Kristy Grignon
MassMEP
100 Grove St.
Worcester, MA 01605
Tel: 508-831-7020
Email: kristyg@massmep.org
Web: www.massmep.org
PR Office:
Shari Worthington, President
Telesian Technology Inc.
49 Midgley Lane
Worcester, MA 01604 USA
+1 508.755.5242, Fax: +1 508.795.1636
Email: sharilee@telesian.com
© 2019, MassMEP, Massachusetts Manufacturing Extension Partnership.