Massachusetts Manufacturing Extension Partnership (MassMEP), a leading resource for manufacturing companies in Massachusetts, today announced the recent graduation of 11 more participants from the Massachusetts Manufacturing Advanced CNC Training Program. This was the sixth training session funded through the Massachusetts More Skilled Workers grant program. The 11 graduates spent 8 weeks participating in an intensive classroom and hands-on curriculum to prepare for jobs as CNC operators. MassMEP's training model combines classroom, simulation, and hands-on training to build job ready skills. Additionally, students are provided work readiness skills that are critical in order to secure employment in today's manufacturing industry.
"The Advanced CNC Training Program was developed to meet the demands of Massachusetts Manufacturers," said Jack Healy, Director of MassMEP. "Since its inception, MassMEP has graduated 610 students in CNC training with a total placement rate of 87.5% and an average starting wage of $16.63 per hour."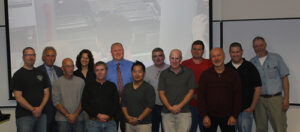 "This training program prepares people for good jobs in manufacturing," said Rep. John Fernandes, Chairman of the Massachusetts Legislative Manufacturing Caucus. "It provides the opportunity to create a career pathway for future growth and obtain a living wage to support families. I am proud to support this program – the only one of its kind in Massachusetts."
Rep. Fernandes presented each graduate with a Citation from the Massachusetts House of Representatives.
The advanced CNC training program covers 280 hours overall and includes 80 hours of foundational manufacturing skills, 100 hours of advanced CNC skills training at WPI, 40 hours of MasterCAM, 10 hours of OSHA training, 30 hours of career readiness, and 20 hours of Math Bootcamp. Upon graduation, the students receive a 10-hour OSHA general industry card, Massachusetts Pre-Apprentice certificate, and MACWIC certification Level 3 certification.
The Massachusetts More Skilled Workers Program is a 3-phase training strategy to prepare and place individuals in a paid job and position them along a career pathway that would culminate in certificate/degrees as Technicians and/or Engineers. The Massachusetts More Skilled Workers Program is funded by a grant awarded by the U.S. Department of Labor's Employment and Training Administration.
About MACWIC
The purpose of the Manufacturing Advancement Center Workforce Innovative Collaborative is to preserve manufacturing tribal knowledge and to execute the transfer of knowledge and critical skills to the current and future workforce. For more information, visit www.macwic.org.
About Massachusetts Manufacturing Extension Partnership
Massachusetts Manufacturing Extension Partnership (MassMEP), part of the national NIST MEP system, is a leading resource for manufacturers. Committed to success in manufacturing, MassMEP transforms companies through solutions focused on innovative growth, operational excellence, and workforce development. The organization cultivates a sustainable community built on supportive relationships, idea sharing, achievement, and next generation manufacturing. For more information, visit www.massmep.org