The 2nd Annual GBMP Lean Spring Showcase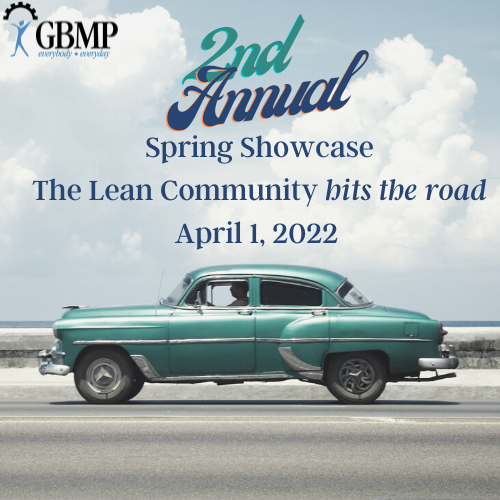 Our Community of Lean Hits the (Virtual) Road…Again
Last year's Lean Spring Showcase was such a big success, we've decided to do it again! Spend the day with us on April 1st and see excellent examples of continuous improvement teams in action implementing a variety of Lean best practices. The event will showcase practical applications of countermeasures from the Lean Toolkit at 8 (yes eight!) different companies.
But this best practice road trip requires no driving – we'll take you there. To a variety of different workplaces all within a single day, which you and your whole team can enjoy from the comfort of home or the office.
All for just $249 per seat (GBMP members pay only $149; Group Discount available too – send five & the sixth is FREE).
Don't miss this chance to have a front-row seat. Yokoten!
Spring is coming: April 1st, 2022 – no fooling! Spark up your continuous improvement journey with GBMP's "2nd Annual Spring Showcase: A Lean Community Hits the Road". Register your team today!
REGISTER HERE